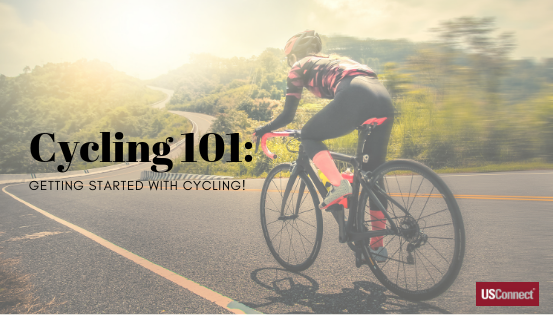 Cycling 101: What You Need to Know
Have you been thinking of investing in a new bike and getting your exercise on two wheels? It's a great workout that is less jarring on joints than running or aerobics and may provide an excellent alternative. This sport has become so popular that nearly every city has plentiful routes for biking that will give you the chance to enjoy a scenic ride while you burn calories and build coordination and muscle strength.
Before you buy that new bike, here are some good things to know:
BUY LOCAL
You can save a lot of money buying through your local bike shop. Its employees will fit your bike to you to ensure it is a good match for you considering frame size and seat height. More than likely, they will also throw in a free service period for you, answer your questions, and provide information about local bike routes and cycling clubs in your area.
COMFORT NOT COST
Test ride the bike before you buy, and go for the best fit, not the best deal. Though it might seem counterintuitive, you don't want a cushy soft saddle. Your weight will eventually settle down through it, leaving your rump resting on the hard piece below. It's wiser to select a saddle that is firm and narrow which offers better support. You can wear padded spandex leggings that offer comfort. Although you may be a little sore that first week or two, you will acclimate to the seat and the discomfort will subside.
CONSIDER PURPOSE
Buy a bike with the gearing you will need for the type of riding you plan to do. While the off-road mountain trails can be very appealing, most new cyclists opt for street cycling, as it is the most accessible form of cycling and the most common. The bikes are lighter weight with skinny tires.
ESSENTIAL GEAR
Helmet: You should always wear a helmet when riding no matter what. Helmets have a shelf-life, so rather than dragging that old one out of the closet, it's safer to buy a new one. There are safety standards set by the government, and the newer helmets will meet those standards. Try them all on to see which style you prefer, and which fits your head best.
Kit: The term for the typical "outfit" cyclists wear is called a "kit."It consists of a jersey, matching padded bike shorts or bib shorts, and socks. These clothes are aerodynamic and help regulate body temperature. In addition, they will wick away sweat to avoid chafing. They come in an endless assortment of colors and styles.
Shoes: Athletic shoes are fine for a beginning cyclist, but with time, you may opt to switch to cycling shoes with clipless pedals. It takes some getting used to, so it is best to practice when you make this transition; as your pedals have a small catch to receive the cleat of your shoe, holding it in place so your feet can't slide around or off the pedals. These specialized, stiff-soled shoes increase the efficiency of your pedaling by maximizing the transfer of energy from your legs to the pedal, especially during the upstroke. Your hamstrings assist with the stroke as your foot remains attached to the pedal when pulling up.
Gloves: If you haven't ridden a bike in a while, you may not remember how blistered your hands can get from the pressure of holding on to the handlebar. Gloves are great for protecting your hands not only from blisters but also if you should have a fall.
Glasses: While protecting your eyes not only from the sun but also from bugs, dust, and debris, glasses will also make the ride much more enjoyable.
Take-alongs: Some important items that savvy cyclists bring with them are spare tubes, a mini pump, tire levers, and a multi-tool. Getting a flat out in the middle of nowhere is no fun, and knowing how to switch out a tube is essential. There are plenty of how-to videos available online, and you can also ask your local cycle shop to show you how.
If you will be riding in an area with the likelihood of encountering pedestrians, get a bell for your bike, so you can alert people to your approach and prevent accidents. It's always a good idea to bring one or two bottles of water along to stay hydrated. You might want to invest in a saddlebag to hold all these items.
Once you have your bike and all your gear, and you're all suited up and ready to go, here are some important things to remember:
Start soft. You have nothing to prove. This should be enjoyable, and if you overdo it your first time out, you might lose the drive to keep it going. Start with a low mileage goal of 5-8 miles per ride, and each week add on just a little bit more.
Try to ride a few times per week instead of once a week. This will help you adjust to the new bike and gradually increase your fitness and stamina.
For the first month or so, try to plan routes that avoid steep hills or are too difficult. Keep it easy and fun.
Give yourself time to recuperate between rides. Just as your muscles need time to rest between workouts at the gym, the same is true with cycling. It is important to allow your body to rest and recuperate after a ride. Don't go two days in a row.
Keep a cycling journal to chart your routes, highlights, and challenges and your feelings and experiences along the way. Tracking your progress is important.
Check out local cycling groups or see if a friend or co-worker would like to ride with you. It makes the experience even more enjoyable when you share it, and he/she can help you stay motivated on those days you just want to crawl back under the covers. Lots of cities now host "no-drop" group rides, intended to help beginner cyclists learn group cycling etiquette and showcase local routes.
This sport is remarkably social and enjoyed by supportive enthusiasts who are eager to share their knowledge. Take your time getting to know as much as you can about cycling and the culture that has developed around it. On this journey, you are sure to get healthier and find many new friends along the way.