Making the Backyard BBQ Healthier
With Fourth of July later this week, people are prepping their grills in anticipation of neighborhood get-togethers and fantastic food. Sometimes those classic backyard party foods spell disaster for your diet. While potato salad and fried chicken are tempting, there are so many tantalizing alternatives.
Kerry Neville, spokesperson for the American Dietetic Association, suggests switching out the more traditional but unhealthy options for healthier ones, adjusting recipes to make those classics lower calorie or more nutritious, or simply limiting portions of your favorites if you simply must have a taste.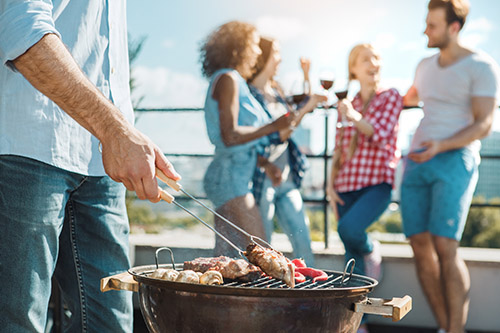 Whether you are attending a potluck or hosting a backyard bash of your own, you can create healthy dishes that are sure to be a big hit. Neville says, "Try using broccoli slaw instead of coleslaw, toss in some shredded carrots, and toss with a light, low-fat poppy seed or yogurt dressing for a great salad that will be still be crunchy and delicious and lower in calories than the typical coleslaw."
Summer brings a plethora of fresh fruits and vegetables that can be incorporated into your menu plan. If there will be grilling at your outing, provide some fresh zucchini and squash, mushrooms, onions, and peppers to toss on the grill.
The author of the Sonoma Diet, Connie Guttersen, RD, says, "Vegetable salads (excluding lettuces) prepared ahead of time will taste even better the next day after their flavors have had time together." As a dipping option, she also recommends that you try one of the many whole-grain crisps options available such as oat crisps and whole-grain rice chips instead of high-fat chips."
Hummus, fat-free bean dip, and salsa are great options that are not deal-breakers for your diet. Consider bringing a simple platter of cut veggies or fruit with a healthy low-fat dip, and celery stuffed with peanut butter or low-fat cheese.
Bring on the Burgers
If burgers are an essential component of your party, consider using lean meat patties or even turkey burgers. The fat content will be much lower. Veggie burgers are also quite tasty and give vegetarians more options at a cookout. Likewise, chicken or turkey hot dogs are also available as are meatballs if you are so inclined.
Most burgers are about 6 ounces, with a payload of 460 calories and 11 grams of saturated fat. And when you count the cheese, bun, and condiments, the typical picnic burger can top upwards of 780 calories! By simply cutting out a couple of ounces to make smaller patties, and using 90% lean meat, you can cut out 231 calories and 6 grams of saturated fat. A turkey burger, even at the larger 6-ounce portion, has a calorie content that is much lower at 289 with only 2.7 grams of saturated fat.
With veggie burgers, it is difficult to provide an accurate calorie content because there are so many different ways and ingredients used to make the patties. However, most veggie burgers without the bun will range from 70-250 calories—still much lower than either lean beef or turkey.
An alternative to burgers and hot dogs is grilled chicken breasts or fish fillets. These are healthy options that taste great and have such versatility when used with marinades and seasonings. One 6-ounce boneless and skinless chicken breast, grilled, will total around 276 calories. Grill a 6-ounce portion of fish and save even more calories with about a 185-calorie total.
What About Wraps?
Another favorite is sandwich wraps. Many people choose a tortilla instead of two slices of bread, thinking they are making a healthier choice. This is actually not true in most cases. Wraps are more condensed than bread and contain a higher fat and calorie content. Two slices of bread contain on average between 70-150 calories, depending on bread type. A tortilla is typically 170-200 calories. So, skip the wraps and just use whole-grain bread instead. You could set out a sandwich construction station where people build their own sandwiches using healthy sandwich stuffers and toppings.
Beverages
Picnics and potlucks usually have lots of soft drinks, sweet tea, and other high-sugar beverage options. Steer clear of those calorie busters, and opt for sparkling, flavored zero-calorie water, unsweetened iced tea, fresh ice water, or other low calorie beverages. Ice water with fresh lemon juice and a little no-calorie sweetener makes a lovely lemonade. If you are providing alcohol, choose spritzers and low-calorie options in lieu of calorie-heavy beer and mixed drinks.
Desserts
Many of us make it through a backyard party congratulating ourselves for our healthy food choices, right up until we see the dessert table. Then it all goes to naught. By choosing guilt-free desserts, you can still satisfy your sweet tooth without regretting it later. How about dishes of berries or peaches with light whipped topping or juicy slices of watermelon? One cup of peaches contains 61 calories. A cup of watermelon has only 47. One cup of strawberries has 49 calories.
If baked goods are a must, go with light angel food cake topped with berries or light whipped topping. One slice of angel food cake (1/12th of 10" diameter) has only 129 calories. By contrast, chocolate cake has 352 calories per slice (1/12th of 9" diameter), and one slice of pecan pie (1/8th of a 9"diameter) packs a punch with 503 calories.
A simple fruit platter with cantaloupe and different types of melons offers a cooling dessert for those wanting to make healthy choices. For a tropical twist, include mango, papaya, pineapple, kiwi, and coconut on your dessert platter.
Think a fruit platter isn't exciting enough? What better way to cool off on a hot day than with popsicles? Just freeze blended fruit with Greek yogurt and honey in popsicle molds to produce a delicious low-calorie dessert that will cool everyone off and definitely won't be ordinary!
Bringing healthy food to a potluck or providing those options at your own party is always appreciated, and it is something you can feel good about. You are helping yourself and others as well in your journey to better health.